10 Jan 2023
Well-being hub and quiet room provided by EventWell at International Confex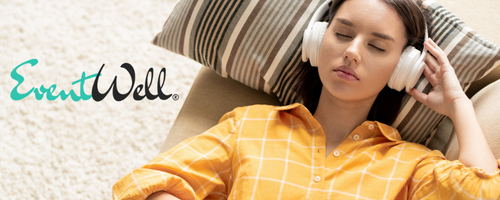 Mash Media will be providing a hub and quiet room for all attendees of International Confex 2023. The quiet room will hosted and managed by EventWell®, will have signage at the entrance, and will be open between the times of 9.30am and 5.30pm each day.
In the quiet room you can rest, stretch, or nap. You can put on our noise cancelling headphones and listen to a calm or headspace meditation, read a book, flick through a magazine, you can do some mindful colouring, release tension with fidget toys, or simply sit back and enjoy the peace and quiet.
You can also use the quiet room to express or breastfeed, and our EventWell® Host will assist should you require chilled storage.
Whilst in the space, your host will offer you a decaf tea or coffee, or water if you prefer, and you are welcome to use laptops or mobiles as long as their sound is muted and you don't have a voice conversation through them.
Within the hub and outside of the quiet room you will also find a wellbeing bar to allow you to rest and digest, and workspace with device charging to allow you to check in and catch up.
If you want to chat about anything you may be feeling or experiencing, you can ask our mental health and neurodiversity trained EventWell® Host for help and support.
Make sure you take a well-deserved 10 minute break with us!
* * *
Your EventWell® Host is Helen and you can contact her at any time by call, text, or whatsapp on 07501 021 573 during the above times.