03 Oct 2022
Virtual insanity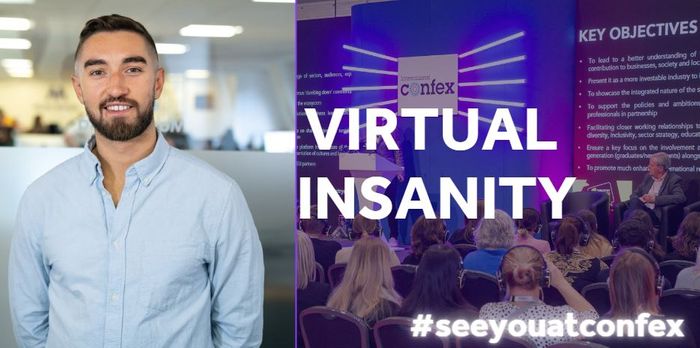 Jack Newey, portfolio director, Conference News and International Confex, says it's not about in-person vs virtual events anymore. Instead, event organisers should focus on client objectives.
One of my favourite songs is 'Virtual Insanity' by Jamiroquai. One of their lyrics read: "this virtual insanity we're living in / has got to change, yeah / things will never be the same." I find these lyrics speak to the current positioning of virtual events.
Many suppliers, and even event organisers, feel like the virtual event market is slipping away, potentially permanently, now that live is returning.
But I disagree.
One of the main conversations I am having with event organisers over the past 12 months, is the return to live and what this means for virtual events.
During the height of the pandemic, online events seemed to be the only solution for our industry. They were a fantastic way for keeping us engaged with our audiences and opened the door for connecting delegates across the world in a safe and sustainable way.
This hasn't changed, although in-person events are returning, it doesn't take away from the fact that virtual and hybrid events bring many benefits to both organisers and audiences.
Objectives over delivery
So, what does this mean for our industry? Having recently hosted an advisory board call for the upcoming Global Event Tech Summit, it was clear that the mindset of event organisers is shifting. Before the pandemic, event technology, as a rule, was seen as any solution organisers could bring to an event to enhance engagement or delegate experience.
Throughout the pandemic, when in-person was no longer an option, the event technology conversation moved towards a live vs virtual mindset, which is completely against the true nature of what event technology should be.
According to event organisers, we can no longer look at events as live, virtual or hybrid. This is too reductionist; events shouldn't be viewed as a 'type'.
The narrative is now shifting towards strategy. The method in which the event is delivered must be based on the objectives. What do we want our delegates to get from the event?
Only once this is clearly defined, should we open the conversation to how we deliver, and whether implementing a digital strategy can help us achieve or even exceed these objectives.
It's no longer platforms versus venues or organisers versus suppliers, we all need to take a holistic approach to allow events to thrive, no matter their modality.
We will be exploring this in depth at the Event Technology Theatre during International Confex, taking place at ExCeL London from 1-2 March 2023.