15 Jul 2021
The big question… What Covid risk mitigation measures will be needed for live events once lockdown ends?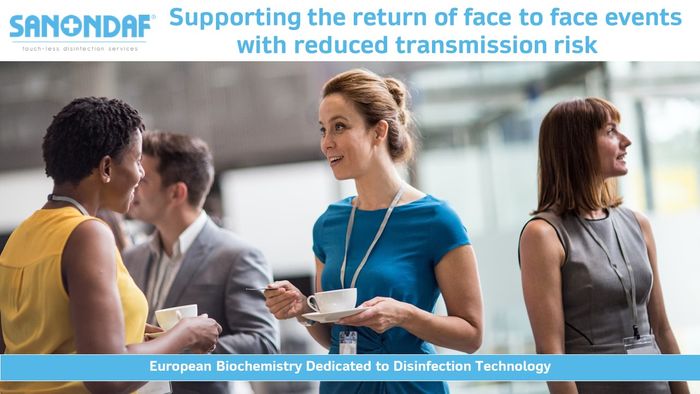 Following the Prime Minister's confirmation on Monday 12th July, that the event industry (in England at least for the time being) will be permitted to fully re-open, event organisers and venues will now have both the freedom, and responsibility, to decide how they should manage risk mitigation of Covid transmission.
But whilst the shackles have been removed, there is also a clear and pronounced narrative from the UK Government and Public Health England that case numbers, hospital admissions and deaths will continue to rise, both over the summer and throughout the winter, well into 2022.
So, as we transition out of lockdown, what risk mitigation measures should be considered for live and hybrid events? To reduce transmission risk and, as importantly, encourage industry confidence in re-opening?
It's clear that proven infection prevention and control measures will be an important element of event planning for the foreseeable future.
Social distancing, covid vaccination certification, lateral flow tests and masks are all still in the mix as options, but challenges exist:
Social distancing severely impacts the financial viability of events, both for venues, suppliers and event hosts.
A vaccination certification concept has been hotly debated for much of this year – questions about personal liberties and discrimination remain.
The results of the Events Research Programme phase 1 revealed that compliance with the requirement to take and submit tests prior to, and following a live event, was extremely low, undermining the value of this approach.
The wearing of masks remains an important and simple to apply risk mitigation measure, but the appeal of this approach will likely vary, based on the specific event format.
So, what other measures should venues and event organisers be considering, especially for indoor events?
Ventilation - Building ventilation, or the lack of effective ventilation systems which bring fresh air into a building and remove contaminated air, has proven to be a significant hindrance in the fight against Covid transmission. It's expected that adaptations to inadequate systems, where possible, will continue to be an investment focus for many current venues, and the build of new venues will have adequate ventilation as a key requirement. But these changes will not happen overnight…
Disinfection - The enhanced manual cleaning and disinfection efforts of all in the hospitality sector will clearly be an important change to maintain, not just for events, but for every business and public sector premises.
Yet if we look more broadly, to the healthcare, childcare and social care sectors, sectors which often (pre-Covid) encounter infection prevention and control challenges, there are more effective practices to be adopted. Practices that both meet the requirement of reducing transmission risk and improving confidence levels. Perhaps the most immediately accessible, and evidence based of which is touchless, total environment decontamination, or fogging and electrostatic spraying, as it has commonly become known.
Traditional spray and wipe disinfection techniques are effective, to a degree, but cannot be applied to all surfaces, they take a considerable amount of time and resources and also do not tackle the bigger challenge of Covid, airborne transmission. By contrast, touchless disinfection treatments, by an experienced infection prevention and control service provider, can decontaminate ALL surfaces and the atmosphere, of even the largest event spaces, in minutes.
For any venue or event organiser focused on adopting a best practice approach, to both significantly reduce Covid transmission risk, and to reassure staff, attendees and suppliers that all efforts possible are being undertaken, a touchless disinfection solution by an experienced infection prevention and control service provider should be considered.
Introducing Sanondaf UK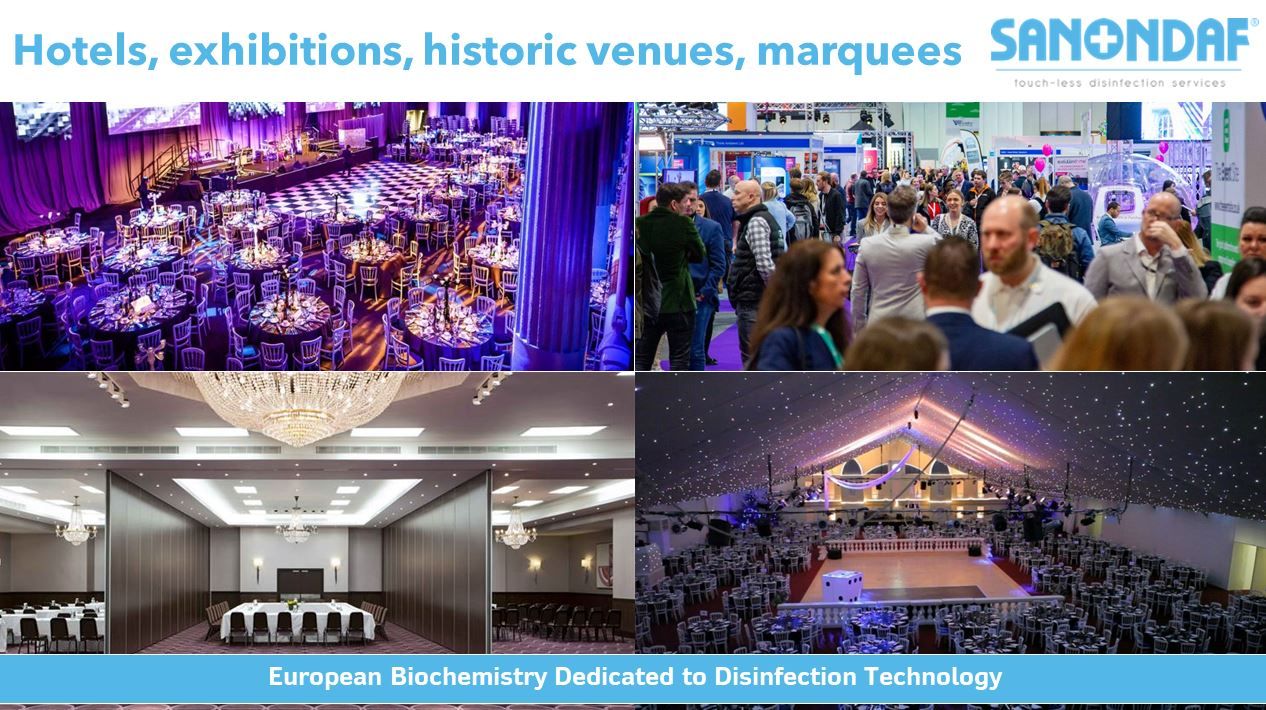 Launched in 2014, Sanondaf UK is a nationwide provider of specialist disinfection and decontamination services, with 25 regional teams providing infection prevention and control support across England, Wales, Scotland, Northern Ireland and the Channel Islands.

Our clients range from the NHS, research laboratories and pharmaceutical manufacturers to hotels, event and hospitality venues, sports stadiums, office premises, nursing homes, nurseries, schools, national transport providers and international blue-chip corporations.
Drawing upon our 7 years' experience of disinfecting and decontaminating hospitals, passenger ferries, planes, transfer vehicles, sports stadiums, and hotel premises, where staff are present 24 hours a day, 7 days a week, we are comfortable working within tight timescales and complex logistical schedules to ensure no disruption to any event.
Our specialist 'live event division' is led by Abby Elliott, Director of Sanondaf Hampshire South, who was interviewed by Conference News Editor, Martin Fullard, in February of this year.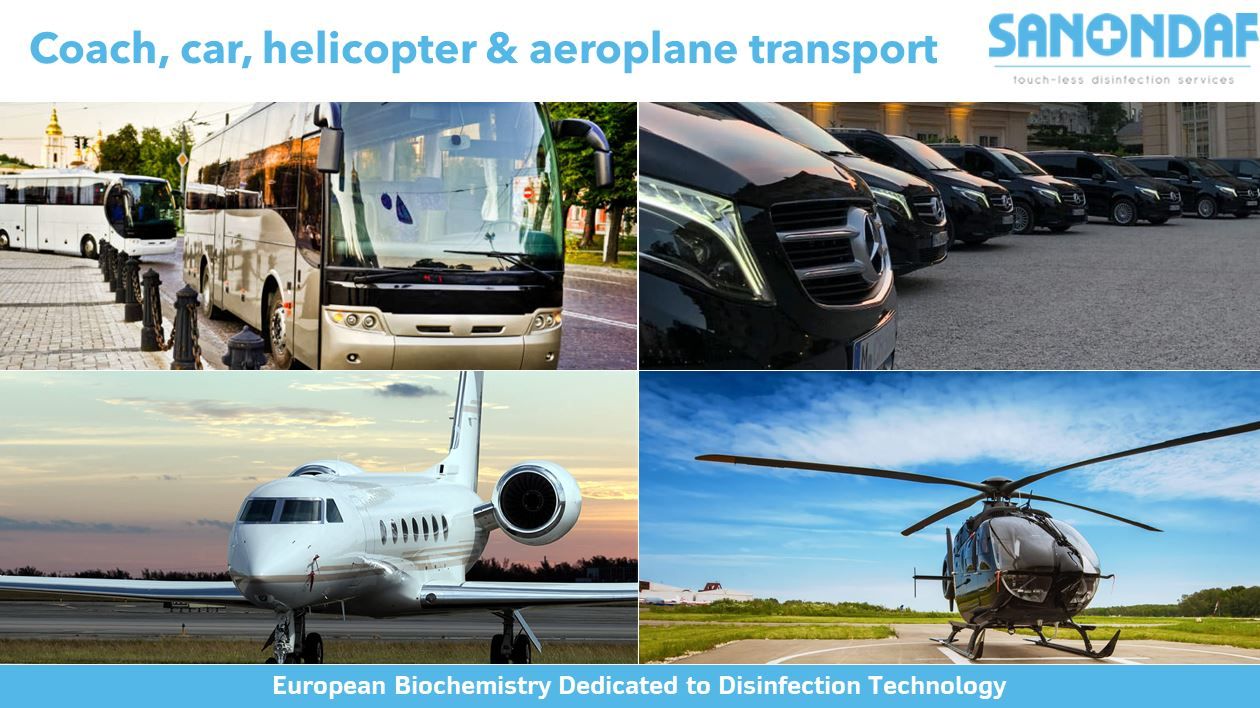 Sanondaf are pleased to be exhibiting at International Confex, stand A24C, a perfect opportunity for event organisers and venues to meet us in person and find out more about our bespoke services and solutions.
www.sanondafukliveevents.co.uk