23 Jan 2023
The student programme at International Confex 2023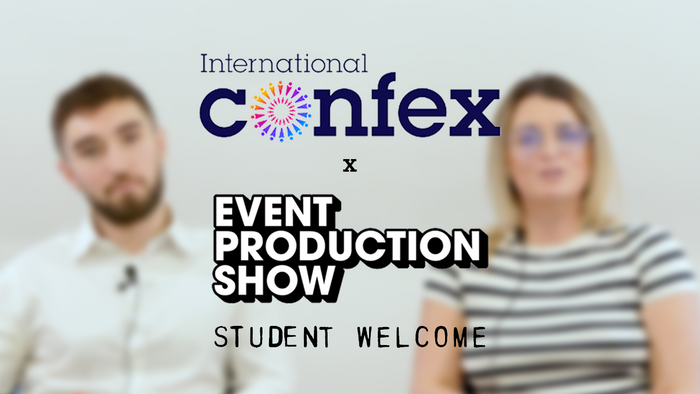 Events Management students from across the UK will be visiting International Confex and the Event Production Show (EPS) on 1-2 March 2023 as part of an innovative initiative designed to support emerging talent. With a generation of Events Management graduates now working in the industry, the Association for Events Management Education (AEME) is collaborating with Mash Media to create connections between future events professionals and the extensive range of exhibitors onsite at ExCel London. Joanne Knowles, Event Director of EPS and Jack Newey, Event Director of IC, have been giving their insights into the two exhibitions and introducing students to the world of exhibitions.
On Thursday 2 March students will be participating in an industry activity designed to offer further insights into the events industry. They'll be working with exhibitors onsite to explore the challenges and opportunities of delivering events. As future clients and colleagues, this is an opportunity for the industry to tap into a fresh perspective and for students to immerse themselves in the exhibition.
The participating Universities are Bournemouth, Brighton, Cardiff Metropolitan, Chester, Falmouth, Gloucestershire, Greenwich, Huddersfield, Lincoln, Manchester Metropolitan, Northampton, Sheffield Hallam, Solent, Sunderland in London, West of England, and Westminster.
How to Register:
If you are attending with one of the participating universities, the team ask that all students wishing to attend the event register through their universities. If your university isn't listed as being part of the programme we are offering several volunteering opportunities and our live content will be recorded and accessible via the website post-show. To find out more about the scheme contact iwise@mashmedia.net