12 Jun 2021
Sanondaf UK - supporting the live events sector safe re-launch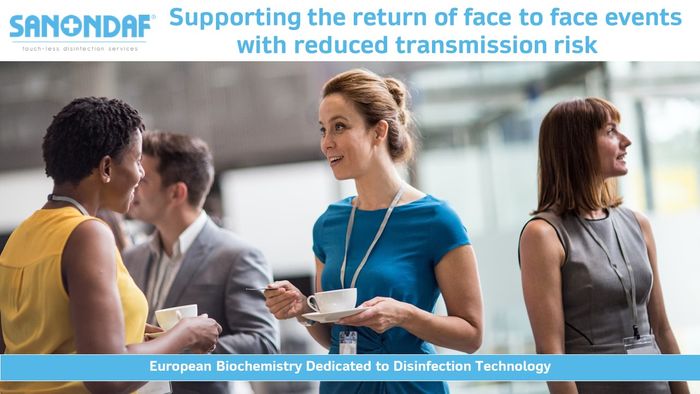 Launched in 2014, Sanondaf UK is a nationwide provider of specialist disinfection and decontamination services, with 25 regional teams providing infection prevention and control support across England, Wales, Scotland, Northern Ireland and the Channel Islands.
Our clients range from the NHS, research laboratories and pharmaceutical manufacturers to hotels, event and hospitality venues, sports stadiums, office premises, nursing homes, schools, transport providers and international blue-chip corporations.

Sanondaf UK are pleased to be supporting the live events sector safely re-launch as lock down restrictions ease, providing disinfection and decontamination services to mitigate the continued risks of transmission and bolster employee, delegate, exhibitor and sponsor confidence. Our specialist 'live event division' is led by Abby Elliott, Director of Sanondaf Hampshire South, who was interviewed by Conference News Editor, Martin Fullard, in February of this year.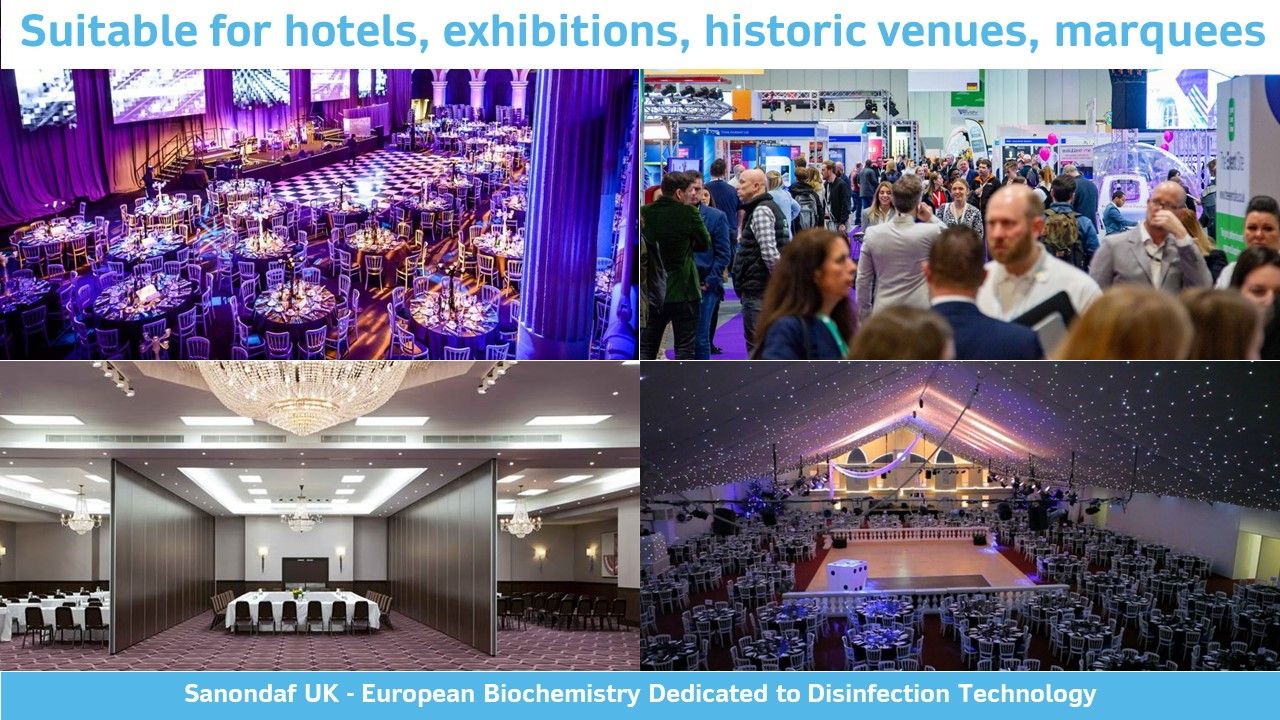 Looking to the Future
The UK vaccines programme, to date, has been a tremendous success, a great achievement for the UK after a truly damaging 16 months.
Regrettably however, as the Prime Minister and Public Health England leadership have repeatedly stated, we need to learn to live alongside Coronavirus. It will not simply disappear once everyone is vaccinated. As the event sector gears up to begin hosting live and hybrid once again, to reduce the continued risks of transmission and encourage industry confidence proven infection prevention and control measures will be an important consideration for the foreseeable future.

Drawing upon our 7 years' experience of disinfecting and decontaminating hospitals, passenger ferries, planes, transfer vehicles, sports stadiums, and hotel premises, where staff are present 24 hours a day, 7 days a week, we are comfortable working within tight timescales and complex logistical schedules to ensure no disruption to any event.

Sanondaf have considerable experience of rapidly disinfecting indoor spaces of up to 150,000m³ and outdoor structures like marquees and performance stages, having them back in use in as little as 15 minutes. We know that a 'one size' approach does not suit or fit all requirements. Partnering with our clients, we work in a consultative manner. We tailor our approach for each job / venue to ensure maximum efficacy is achieved and that treatments are applied safely, in a manner and time suited to the needs of our clients and complying with all regulations and guidelines from both the Health and Safety Executive and World Health Organisation.

Sanondaf treatments (administered as a dry vapour utilising advanced fogging and electrostatic technology) are clinically proven to achieve a 4 to 6 log rate (99.99% to 99.9999%) for the destruction of over 280 harmful viruses (including Coronavirus), bacteria, fungi, mould, yeast and other microorganisms. Sanondaf treatments leave no chemical residue and are suitable for use in all settings, on all surfaces and treat the air itself, which is the major risk posed by an airborne virus.

www.sanondafukliveevents.co.uk
Sanondaf at International Confex
Sanondaf are pleased to be exhibiting at International Confex, stand A24C a perfect opportunity for event organisers and venues to meet us in person and find out more about our bespoke services and solutions.