16 Nov 2020
Register for EventLab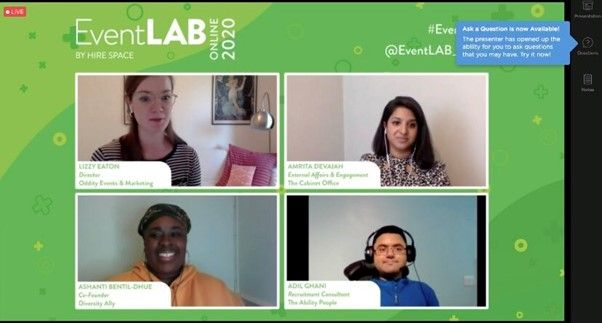 Are you currently organising virtual events? EventLAB Online, by Hire Space, is back for Part 2 of its flagship show upskilling event professionals and examining the future of events.
Taking place on 11th November on virtual events platform Cadence, EventLAB will address key event industry challenges and opportunities, fresh ideas and new innovations as the industry begins to emerge from the pandemic, with a special focus on virtual and hybrid.
The day will feature topics including:
How Can We Nail Hybrid Event Networking?
Event ROI - How to do more with less
The Gamification Of Marketing: Pushing The Boundaries Of Virtual Events With Samsung Life Unstoppable
And many more
You'll also have the opportunity to demo Upstage, Hire Space's new virtual events platform, and Big Top, its acclaimed Christmas party experience.
As with previous EventLAB Flagship events, delegates can sign up for CPD-certified professional development workshops, as well as main stage content and fireside discussions.
Speakers at the event include Kim Myhre, founder at Experience Designed; Daniel Thompson, Head of Event Operations at Tobacco Dock; Kate Davey, Head of Event Marketing and Education at London Metal Exchange; and Amy Kobelis, Engagement and Events Manager, WWF.
In partnership with Vue Entertainment, event delegates who engage most proactively with event content stand to win 2 x cinema tickets to any UK Vue cinema.
Felicity Cator, Head of EventLAB, said: "As the events sector is under the microscope in ways like never before, we have the opportunity to reassess what's really important to our suppliers and clients, and to double down on the key skills and opportunities for event professionals as a new future emerges. As ever, we expect lively discussion and lots of new ideas."
Attendees can register to attend here, and view the full program here.
Kim Meier
Telephone: 0207 099 2512
Email: kim@hirespace.com