23 Feb 2023
Meetings Make Trees at International Confex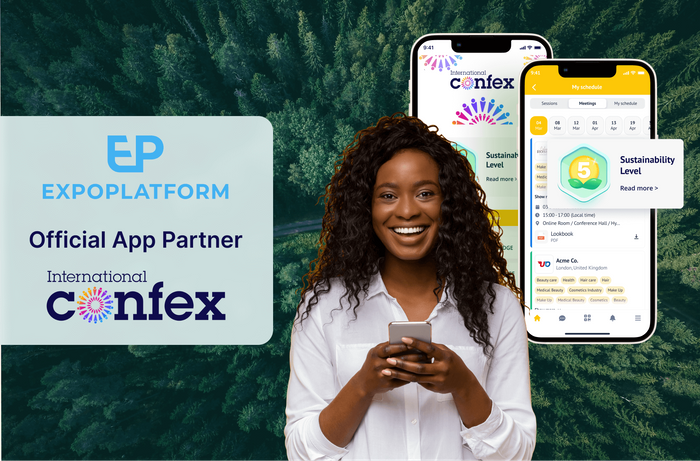 A tree will be planted for every meeting booked at International Confex, setting it up to the greenest ever edition of the show.
Taking place at ExCel London, International Confex has signed up to ExpoPlatform's Meetings Make Trees initiative as well as utilizing its full suite of industry-leading digital solutions as official app partner.
All meetings booked through the platform or app will lead to a tree being planted by the technology provider, as part of efforts to offset the show's carbon footprint.
Jack Newey, Event Director of International Confex, said: "As we strive to improve on the show's sustainability programme, partnering with ExpoPlatform's initiative will help drive more engagement at the show whilst simultaneously helping offset the show's carbon footprint."
Tanya Pinchuk, CEO of ExpoPlatform, said: "We are honored to support Mash Media's events with our Smart Event solutions.
"As a world-leading events media company, Mash Media has been an important partner for ExpoPlatform over the course of the last six years and we are happy to start a new page of our cooperation, delivering valuable interactions to the events community."
It comes as part of a range of sustainability steps taken by Mash Media to set International Confex up to be the greenest ever edition.
UK-based vendor ExpoPlatform will also be the tech provider for a variety of the organizer's other live events for 2023.
Both have previously worked together on International Confex - which brings together eventprofs to learn and do business - but this move marks a major development in the relationship.
ExpoPlatform is a UK-based event tech provider that operates globally and is trusted by world-leading organizers due to its innovative and reliable technology.
It has helped deliver high-profile Smart Events and 365 Communities companies such as RX, Informa Markets and Dubai World Trade Centre.
The business has also released a range of industry-leading ebooks under its Future of Events ebook series, as well as its latest research into the digital future of exhibitions through the Event Tech Forecast 2023.
Visit the website to request a demo and learn more about ExpoPlatform.