Lick Me I'm Delicious partner with Candy Mechanics to make 3D chocolate lollipops of your head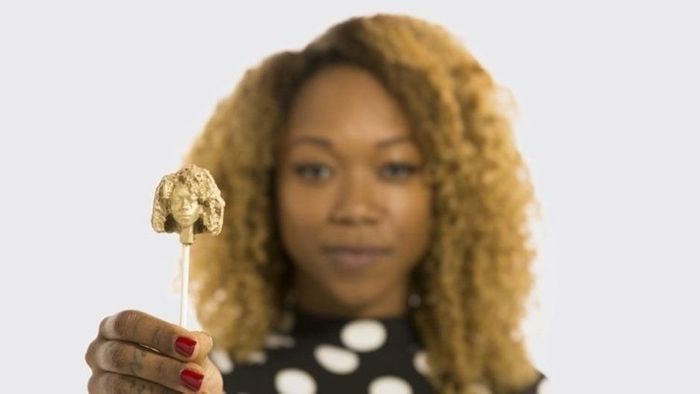 Lick Me I'm Delicious are excited to announce they have partnered with Candy Mechanics to launch their latest machine; The Chocolate Selfie Station. In a matter of minutes, this latest invention is able to create a 3D replica of your head in delicious milk chocolate.
The experience begins with a 3D scan being taken of your head. Your Selfie Pop is then carved out of chocolate right in front of your eyes, before being finished with a brush of gold lustre. The finished product is a remarkable lifelike replica of your head ready to be eaten immediately or taken away as a miniature chocolaty sidekick.
Charlie, founder of Lick Me I'm Delicious, says;
We've always admired Candy Mechanics personalisation technology and it's a perfect fit for our brand. We can't wait to bring this incredible experience to all our clients.
Sam, founder of Candy Mechanics, says;
We're thrilled to be working with Lick Me I'm Delicious, they are a perfect for this product and we can't wait for people to be eating their own heads again!
The Chocolate Selfie Station will be available to hire from 1st June for events in the UK and Europe. Lick Me I'm Delicious will offer a fully customisable set up with multiple stations to suit clients' needs and options for branding and further flavour customisation where required.
Lick Me I'm Delicious specialise in delivering incredible event experiences for their clients across the UK and Europe. With a range of 16 unique inventions, their dedicated team of qualified event professionals produce over 270 events a year.
---
Lick Me I'm Delicious www.lickmeimdelicious.com

Additional Media
https://www.dropbox.com/sh/vyz0qutktv80eke/AAD1O87SfcBCswHwlJjb6XHya?dl=0

Tel 020 3637 1206
Email bookings@lickmeimdelicious.com
Tweet @lickdelicious
Instagram @lickdelicious
Facebook /lickmeimdelicious
LinkedIn Lick Me I'm Delicious
Candy Mechanics www.candymechanics.com