16 Nov 2020
Inspiration and innovation is shaping new solutions in the Netherlands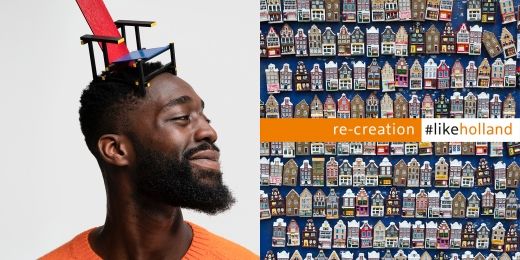 How do they keep their heads above water?
One of the greatest challenges for the Netherlands is water, almost a third of the country is below sea level. The solution for rising oceans is to let water in and not try to subdue Mother Nature but live with the water. The Dutch devise lakes, garages, parks and plazas that are not only a boon to daily life but also double as enormous reservoirs when the seas and rivers spill over.
Many cities are inspired by planning models based on inventive urbanism. Designing a city to deal with water was the first task of survival and it remains a defining job. It's a process and a movement, not just a bunch of dikes and dams, it inspires an innovative way of life.
The Dutch like to re-create.
In the Netherlands, they love their historic buildings. They revel in finding new architectural solutions to breathe life into doomed structures and transform them into modern, multi-purpose spaces. Creative thinking has inspired venues to quickly adapt and repurpose their space to fit today's rapidly changing needs and meeting requirements.
Look at Sugarcity Events, a former sugar factory has been transformed into an event and meeting space. It now offers the unique combination of the original sugar factory industrial feel with the latest in hi-tech surroundings including a spacious livestream studio for virtual and hybrid event opportunities.
In Rotterdam, the original grain exchange has been converted into an ultra-contemporary convention center. Good lighting was essential to the farmers and now Postillion Convention Centre WTC offers beautiful lighting effects greatly enhancing the ambiance of this impressive venue.
Creating Covid Solutions.
The transformative ability to shape solutions in the Netherlands is a continuous process providing a wide variety of flexible options available to corporate meeting profs. Our partners have found countless ways to incorporate the changing needs under Covid into multi-dimensional, multi-media presentation venues while maximizing space and creative thinking to meet all necessary requirements.
Take Beurs van Berlage, a gorgeous historic building, now housing a state-of-the-art event studio, Studio Berlage. You can have a hybrid event with a full stage surrounded by hi-tech LED's in this exclusive hall.
Jaarbeurs' Centre has opened SCALA, inspired by the world famous theatre. By creating a unique vertical seating venue, they allow guests to sit safely while bringing the experience closer to guests.
Another way the Dutch think outside the box, is how Rotterdam Ahoy and Boijmans van Beuningen worked together to create a Drive-Thru Museum, providing an experience of museum-worthy art enjoyed from the convenience of your car.
Solutions shaped to fit today's needs.
Like all of us, the Dutch meeting and convention partners have been working hard to go above and beyond to overcome the challenges presented by Covid. The partners are readdressing every aspect of their business with your needs in mind. Since there is no "one size fits all" way forward, they remain flexible and are adjusting to requests now more than ever. Working together is what "shaping solutions" is all about.

Humberto Benavente
Telephone: +44 (0) 7899 998 658
Email: hbenavente@holland.com
Website: www.holland.com/meetings