18 Nov 2022
The hotly contested 2022 miaList roll of honour is revealed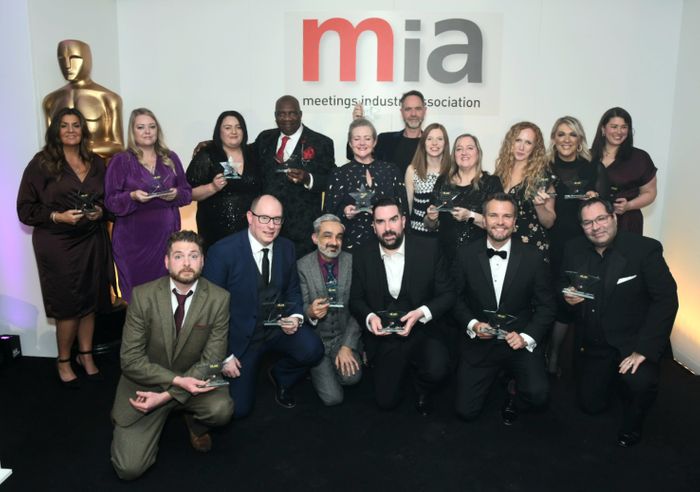 The names of the prestigious 2022 miaList were unveiled last night as the Meetings Industry Association (mia) shined a spotlight on the sector's finest talent.
Now in its twelfth year, competition remained extremely fierce for a place on the coveted roll of honour that recognises inspiring individuals and teams who go the extra mile and play a crucial role in making their business meetings and events organisations' so successful.
During this year's celebration that took place at Hilton Metropole Birmingham after the mia's REIGNITE conference, dedicated titles were also presented for Sustainability and Innovation as well as Venue of the Year and Supplier of the Year, which were new categories for 2022.
The 10 individual names featured on the 2022 miaList were:
Luke Balcombe, Crowne Plaza Newcastle – Stephenson Quarter who impressed the judges with how he has supported both his team and the wider goals of the hotel as it recovered from the pandemic
Clare Barnbrock, Edgbaston Park Hotel & Conference Centre was commended for going above and beyond her role and for being a great example of a leader continually thinking about the wider team and their future over herself
Mark Collins, Manchester Central was recognised for being an outstanding ambassador and having a high-quality approach to every aspect of the industry
Alistair Graham, emc3 secured a place for being an inspiring business leader focused on investing in and building a strong team
Katie Niland, The Belfry Hotel & Resort stood out as being a highly competent and well regarded member of the team as well as being an inspiring leader
Mike Palmer, The Studio Leeds impressed the judges with his highly infectious enthusiasm and commitment to the venue regularly going above and beyond the call of duty
Charlotte Podlewska, Conference Leeds was recognised for her enthusiastic commitment to working with industry peers and partners across the city to help organisers deliver exceptional events that delegates will remember
Georgia Suttie, Agiito was commended for her energetic, confident, competent leadership qualities and being an inspiring role model for others to follow
Andrew Syson, The Studio Leeds secured a place for exuding the qualities of being the ultimate team player taking on additional responsibilities outside of his comfort zone to support the business
Michael Ward, Crowne Plaza Stratford Upon Avon impressed judges with his passion and enthusiasm and his ability to connect with the various disciplines across the organisation to consistently deliver
Belfast secured the Destination Team of the Year, sponsored by Simple View, for its genuine long-term strategy that is totally aligned with Northern Ireland's economic growth objectives and created impressive results.
The Sales and Marketing Team of the Year title was presented to Whittlebury Park for demonstrating enthusiasm and team spirit that really shined through making them a market leader.
Manchester Central won the Events and Operations Team of the Year for demonstrating clear deliverables, great team spirit and feedback particularly when joining forces to repurpose the events venue back from being the temporary NHS Nightingale North West Hospital.
The Venue of the Year title was awarded to The Belfry Hotel & Resort, for their strong approach to hospitality and significant pride in their product while the Supplier of the Year was scooped by The Events Company for being an imaginative, creative team that adapts to deliver memorable events for its clients whatever the budget.
The crown for Innovation, sponsored by totem, was secured by NewcastleGateshead Initiative for their multifaceted 'Tyne to get back to business' campaign that brought the city together to shine a spotlight on business tourism and excellence across the entire destination.
Wyboston Lakes Resort scooped the Sustainability Award, sponsored by Green Meetings, for their ongoing commitment and achievements that have impacted all aspects of their business as well as their approach to sharing best practice.
Kerrin MacPhie, chief executive of the mia said: "Our congratulations go to all those who secured a place on our 2022 miaList. It has been truly incredible commending some of the most inspiring talent that we have working in our wonderful sector as well as recognising the great innovative work that continues behind the scenes to drive the capabilities of our industry."
She added: "I would also like to extend my thanks to our expert judges, partners and sponsors for their continued support, which contributes to the ongoing success of the miaList."
miaList nominees were assessed by an esteemed panel of industry experts, including Anna Abdelnoor of isla, Chris Skeith of the AEO, Emma Cartmell of CHS Group, Felicia Asiedu of Cvent Europe, Jess Southworth of Hotel Football, John Kelly of Meet & Potato, Leo Lloyd of Hybab and Leopold Marketing, Michael Hirst of the Event Industry Board and Neil Thompson of Delegate Wranglers.
NOTES TO EDITOR
About the mia
The mia is one of the fastest growing associations in the conference, meetings and events sector, founded by a proactive group of hotel and conference centre operators and booking agents to lead the conference, meetings and events industry, providing accreditation, industry awards, research and a voice to government.
The mia supports over 700 members by:
Providing extensive regional networking opportunities on a monthly basis.
Helping them to achieve the highest standards of facilities and service through achievement of AIM, the industry standard of quality and excellence.
Providing a library of best practice and quality standards guidelines.
Promoting AIM to industry buyers.
Delivering tangible benefits which support members in the achievement of their own business goals.
By the provision of information, education, research and advice all of which lead to improved business performance.
By sharing issues of sector importance with them.
By raising the profile of business tourism with government.
MIA COUNCIL
CHAIR
Steve Jones, Managing Director, Wyboston Lakes
VICE CHAIR
Charles Sargeant, Managing Director, Whittlebury Park
APPOINTEES
Kevin Breeze, Company Secretary
Barry Cope, Treasurer
CHIEF EXECUTIVE
Kerrin MacPhie
BOARD
Jo Austin, Lime Venue Portfolio
Allan Boyle, NEC Group
Jennifer Jensen, Marketing Liverpool
Andrew Mosely, The Grand Brighton & Richmond Hill Hotels
John Nugent, Green & Fortune
Mark Taylor, QEII Centre
For media enquiries, please contact Custard on louis@custardcommunications.com / lesley@custardcommunications.com or call 01483 740747.