Hosting the Most Sustainable Events in The World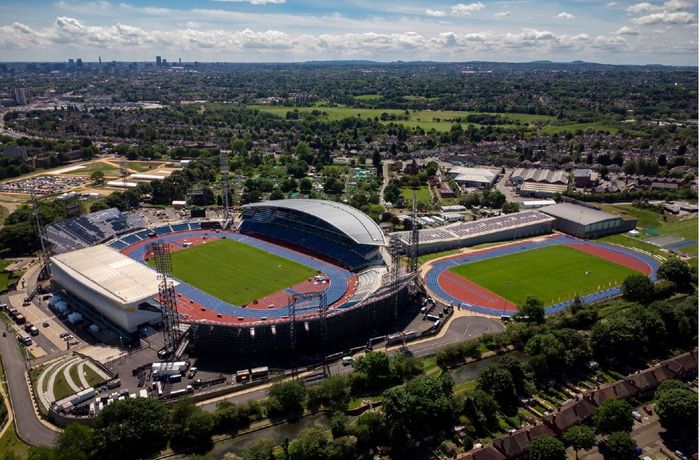 Maximising Visitor Experience Whilst Minimising Carbon Emissions
After a faltering start to the 2020's for major events, the UK and in particular its West Midlands region emerged from Covid lockdown with spectacular and unprecedented success. The City of Coventry played host to a dazzling array of events during it's extended tenure as UK City of Culture 2021, Radio 1's Big Weekend launched a much-anticipated 2022 festival season, and athletes and spectators from 72 different nations and territories attended the Birmingham 2022 Commonwealth Games. A legacy of excitement and achievement remains in the air across the UK and beyond as a result of the West Midlands extending a traditionally warm welcome to the world. However, the international mix of diverse jaw-dropping entertainment and outstanding sporting achievements are far from its own legacy.
It is widely acknowledged that we are still in the eye of the storm when it comes to the global climate change emergency. That's why safe, secure, low-carbon travel for audiences, artists, performers, spectators, athletes, and officials were a key feature of the overarching West Midlands Combined Authority (WMCA) travel demand management strategy for its venues and events.
Working with Birmingham-based 'You. Smart. Thing.', WMCA, which comprised twelve local authorities and three Local Enterprise Partnerships, has delivered some of the most sustainable major events yet - deterring people from driving by including public transport in spectator tickets, for example, providing shuttlebus options, and encouraging as many people as possible to take active forms of travel such as walking and cycling. The aim was to champion lower-carbon modes of transport, physical activity and wellbeing through active travel, whilst supporting the ambition to create a carbon-neutral legacy for event organisers, the wider region, and the UK.
The technology and infrastructure put in place to manage travel demand, for both residents and visitors, created an opportunity for the UK to showcase its world-leading capabilities in addressing climate change by setting an example of best-practice in achieving low-carbon visitor travel to major events, in parallel with net socio-economic benefits.
Laura Shoaf, CEO, WMCA explains, "We've worked to ensure that the West Midlands remains a beacon of hope and inspiration, creating a legacy of cultural and economic benefits whilst playing host to visiting nations and international sporting achievements that inspire health and wellbeing."
Personalised Low-carbon Travel Plans

Image: The 'You. Smart. Thing.' travel assistant and travel demand management service.
'You. Smart. Thing.' (YST) is an internet-based journey planning, travel assistant and travel demand management service. It offers visitors to venues and events a tailored travel experience from sofa-to-seat. The platform enables operational teams to dynamically manage multiple audience arrival times, entry and exit points, and to moderate people-flow and minimise overcrowding based on tailored routes, seating areas, individual preferences, and access needs.
Curated low-carbon travel plans created in the YST platform around UK venues and events nudge visitors to make lower carbon travel choices. YST worked with Transport
for West Midlands (part of WMCA), and transport partners to enable visitors to the region to create personalised travel plans alongside their event tickets using its dedicated travel assistant service, which was embedded in event websites, mobile apps, and in marketing communications.
Behind the spectacles of artistry, athleticism and awe that the world enjoyed during the post-lockdown dawn of a brave new decade, YST's travel assistant technology delivered tailored routes that dynamically combine low-carbon travel demand management rules for host venues and specific events with people's individual travel requirements. For the Games, map layers were added showing where ticket holders could access free public transport, Birmingham's clean air zone, the locations of official taxi ranks and the cycling and marathon road-race routes.
Equality, diversity and inclusion, and sustainability features, such as step-free and accessible travel options alongside the carbon impact of different journeys, are incorporated in the next generation wayfinding technology, explains YST CEO, Chris Thompson.
"During Covid we worked with West Midlands 5G, Sport England and Connected Places Catapult to research and develop extensions to our core platform. We enabled people's travel requirements to be securely shared across the events' ecosystem, including anonymised data being provided to transport operators to help them forecast and manage capacity. This means venue and event stakeholders can deliver personalised travel assistance and wayfinding, monitor and influence responsible travel choices, and whenever possible, promote active travel."
Active & Sustainable Travel Choices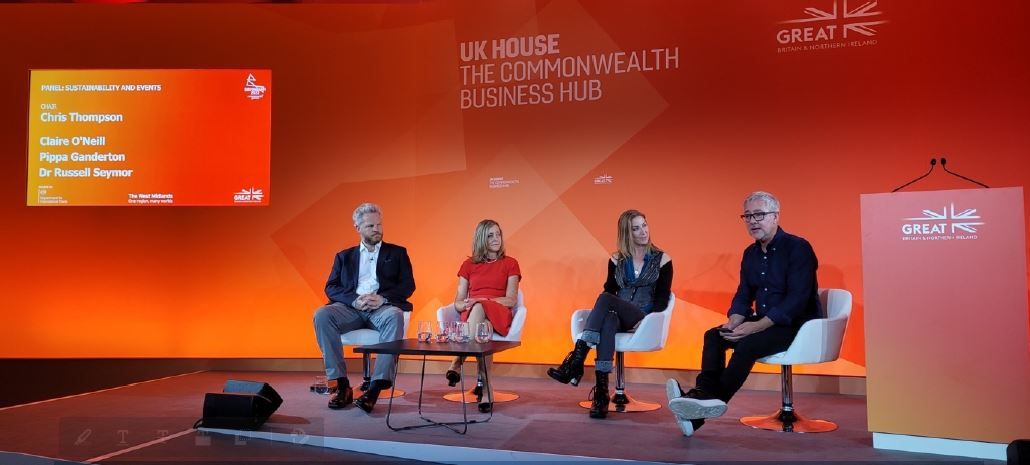 Image: UK House Sustainability & Events panel, 2/08/22, (left to right): Dr Russel Seymour, Chief Exec.; British Association for
Sustainable Sport; Pippa Ganderton, Product Director at ATPI Halo; Clair O'Neil, Co-founder & Director at A Greener Festival; Chris
Thompson, panel chair, CEO, 'You. Smart. Thing.'
Historically over 80% of a major event's carbon footprint comes from travel. According to industry experts on a UK House Commonwealth Business Hub Sustainability & Events panel that took place during the Games, getting audiences to travel sustainably is still by far the greatest challenge.
Anne Shaw, executive director for Transport for West Midlands, said:
"The transport system played a crucial part in what was a hugely successful Commonwealth Games for Birmingham and the wider region. Our many partners, including 'You. Smart. Thing.', pulled together to ensure that spectators and visitors arrived to their events on time using sustainable transport and that our networks, by and large, kept moving throughout. It also showed what modal shift can be achieved with affordable public transport and up to the minute travel information."
In the lead-up to this year's West Midlands events, travel forecast data from the YST platform showed that they were likely to have one of the lowest uses of private cars compared to previous major events, with under 16% of visitors suggesting they would use their car to get to venues. This represents a step-change in visitor travel behaviour.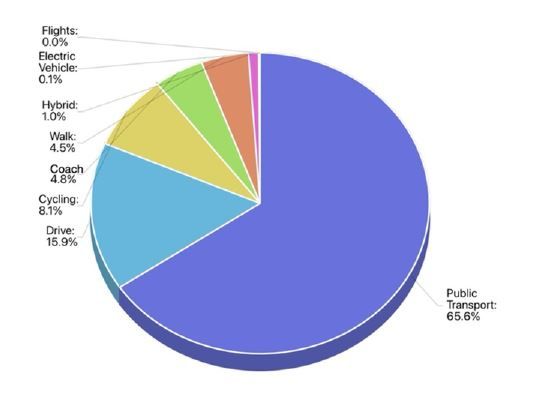 Chart: 'You. Smart. Thing.' West Midlands travel assistant deployments, visitor travel forecast by mode, 21/07/22.
Despite UK rail strikes and rail disruption, the same data set, taken from visitor travel plans also showed over 65% of audiences opting for public transport, including dedicated shuttlebus services, and over 13% simply opting to walk or cycle. Perhaps it was the nature of the events themselves, combined with Transport for West Midlands' walking and cycling plan, bike hire and new cycle lane infrastructure, that inspired people to opt for more active and sustainable travel choices.
Capturing the Carbon Footprint from Visitor Travel
By mid 2022, over three quarters of a million travel plans had been created using WMCA deployments of the YST travel assistant, which gave visitors the option to subscribe to travel plan updates as well as just planning their trip. "This has been key in managing rail disruption.", advises Thompson, "In advance of the strikes the platform was able to redirect people to specially commissioned coach services rather than travelling by private car."
Data identifying the mode-of-transport selected by people subscribing to travel plan updates has allowed YST to estimate the total travel carbon footprint from visitors using
its service to plan a trip to West Midlands events to be just under 2,921 CO2e tonnes, calculated using the UK government's Department for Transport journey emissions comparisons methodology and guidance.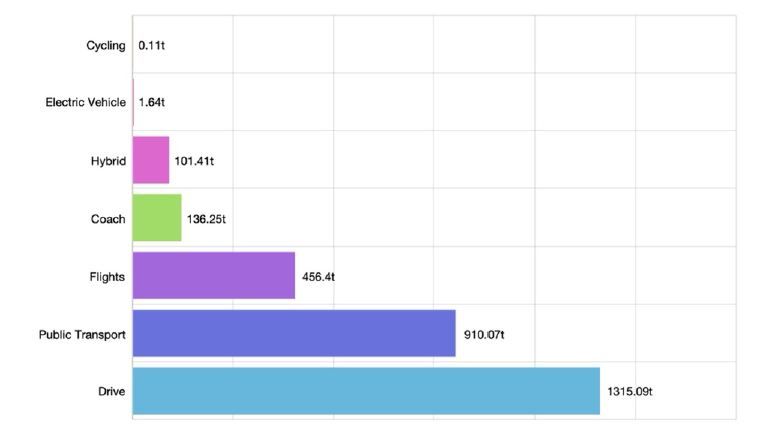 You. Smart. Thing.West Midlands travel assistant deployments, travel plan forecast by modal share of CO2e
Whilst indicating an overall carbon footprint significantly less than that generated by visitor travel to previous major events, the data clearly illustrates the impact of private car use - even with driving comprising less than 16% of the modal split, and the importance of incentivising people to switch to less polluting modes of transport. The YST dataset will be used to help calculate the overall carbon footprint for regional events, offsetting activity and carbon credits in line with the UK's Paris Agreement commitments, and emerging carbon credit trading initiatives.
It's clear that the YST travel assistant service will continue to deliver world-class visitor experiences for destinations, venues and events globally, bringing legacy value to host cities, residents and businesses. More locally, it can help catalyse an events-driven economic boost to the West Midlands region of the UK, estimated at over £1.2 billion. A major impact of the service will be in helping the cultural sector to address climate change by monitoring and reducing the impact of visitor travel. Wider adoption of the YST travel assistant service by venues and events will deliver legacy value, not just for the regional economies, but for future generations around the world.
Andrew Steele, Chief Operating Officer at YST and principal architect of the platform concludes, "Hosting major events has given the West Midlands region, and the UK, the opportunity to trailblaze in the delivery of sustainable travel. We are experiencing the emergence of a new low-carbon travel industry which we are proud to be part of, driving long-term investment, job creation and regional economic growth."
Editors Notes:
Hashtags: #Travel #Tourism #Events #Sustainability
About 'You. Smart. Thing.'
The 'You. Smart. Thing.' travel assistant interface plugs into websites or smartphone apps, to offer pre-configured transport modes and routes that help manage people flow and minimise overcrowding. For larger venues it can also integrate with ticketing and CRM systems and booking flows, streamlining box office management and customer engagement.
Curating their trip minimises visitors' carbon footprint whilst enhancing their overall experience. Visitors receive email or SMS updates in the event of delays or disruption, and operational teams get granular GDPR-compliant information about who is coming, where from and how, creating a communication tool and valuable dataset for better informed decisions.
'You. Smart. Thing.' was developed in association with the Department for Transport and is currently being rolled out across the UK, helping to rebuild audiences and a thriving cultural economy by actively promoting sustainable travel to venues and events.
For information about 'You. Smart. Thing.' please visit https://yousmartthing.com/
About West Midlands Combined Authority (WMCA)
The West Midlands Combined Authority (WMCA) is 18 local authorities, including Birmingham City Council and four Local Enterprise Partnerships (LEPs) including Greater Birmingham & Solihull LEP, working together to move powers from Whitehall to the West Midlands.
For information about West Midlands Combined Authority visit:
https://www.wmca.org.uk

About the Birmingham 2022 Commonwealth Games
For information about the games and its carbon neutral legacy please visit: https://www.birmingham2022.com/about-us/our-purpose/ourlegacy/ sustainability/carbon-neutral-legacy