Giant iTab at International Confex 2023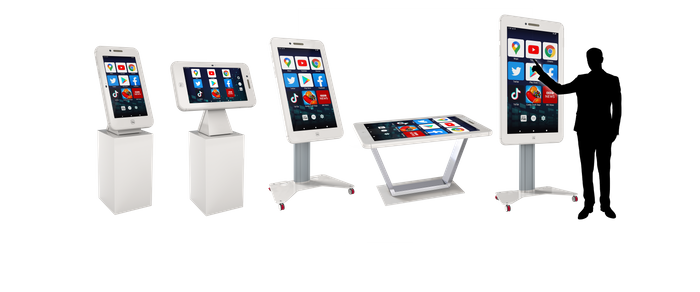 As preferred event & supply partners for International Confex 2023, Giant iTab will be supplying Confex, EPS and the PA Show with a total of 38 of their award-winning Giant Smartphones and 12 iPads displaying interactive info-points, floor plans, the event app and other hand-held content, all on a GIANT scale.
If you are an exhibitor and would like to add a little extra wow-factor to your stand, Giant iTab are offering exhibitors, agencies and stand builders across all shows the opportunity to take advantage of a SPECIAL OFFER that includes Free on-site support, Free installation & de-rig, and Free delivery & collection!
Get in touch here to find out more: https://www.giantitab.com/enquiry-form
Giant iTab will also be exhibiting on stand: C36C creating an 'experiential centre' in which event planners can witness first-hand the latest event tech solutions to wow their customers and create more interactive experiences for their own exhibitions, conferences, and events.
In addition, Giant iTab will be launching their new 'Self-Service; solution which caters for tech savvy exhibitors, agencies and stand builders looking for budget friendly solutions as a simple click & collect package. This is made easy by their very own Companion App, featuring intuitive step-by-step processes, using images, text, and videos to showcase the set-up and de-rig for each of the solutions from start to finish.
They will also be launching some 'NEW' and innovative Giant Smartphone solutions 'exclusively' at Confed in the Tech Zone area of the show. These new inclusions to the Giant iTab range include:
The G007: otherwise known as the 'sales mate' or 'bond case', the 'NEW' portable Giant iTab for the international travelling sales professional maintains the plug 'n' play useability, presenting your apps or any digital content, with the added convenience of being within any hand-held luggage dimensions and weighing in at under 10kg making it lightweight and flight ready.
The Mirror Smartphone: Sleek and understated cosmetics, the overall design is built with modern aesthetics in mind. Lightweight and crafted with high-quality modulus encasings, the profile of The Mirror Smartphone is a truly a sight to behold.
The TikTok Solution: a bespoke software and hardware solution, designed to capture the full TikTok experience on a GIANT scale. The 43" Giant iTab custom. Ideal for virtual 1:1 or group activities like tutorials, exercises, making digital content for TikTok, or even for personal use, this game changing technology is fastly becoming a favourable and essential tool for modern venues and the social media/influencing repertoire.

Get in touch here to find out more: https://www.giantitab.com/enquiry-form