09 Apr 2021
Crowd Connected to provide real-time visitor behaviour analytics for Confex 2021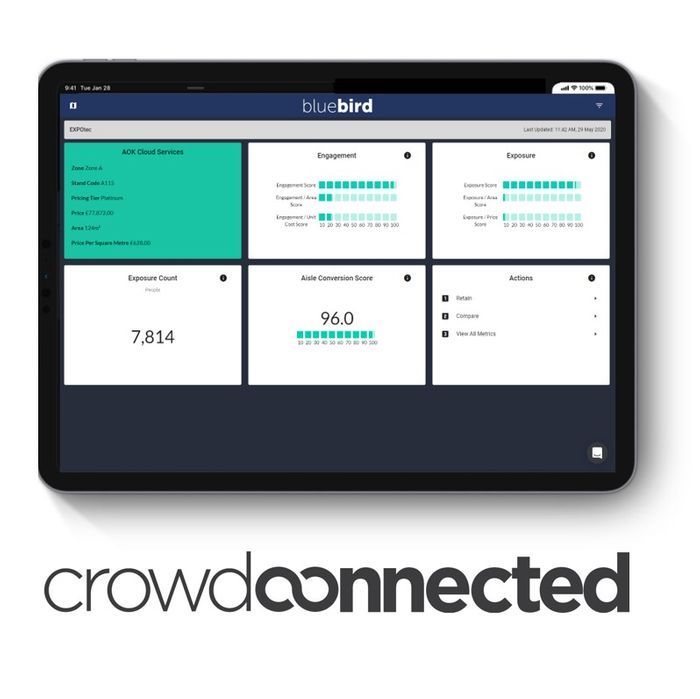 The 2021 edition of the UK's leading event industry exhibition, International Confex, will benefit from Crowd Connected's real-time visitor behaviour analytics, organiser Mash Media has confirmed.
The show – scheduled for 22-23 June 2021 – will be the first large scale event at ExCeL London after the full lifting of COVID restrictions, assuming the government roadmap remains on track.
Crowd Connected's award-winning platform gathers data on visitor movement on a fully opted-in basis through code integrated into an event's official mobile app. For Confex 2021, the app is provided by leading vendor Swapcard. The visitor movement data is processed to provide real-time outputs that benefit multiple teams across event organiser, visitors and exhibitors.
Confex's sales personnel – including the dedicated onsite exhibitor rebook team provided by Benchmark Collective – will have access to Crowd Connected's revolutionary new Bluebird tool. This provides instant insight into how every stand is performing, through footfall analytics across the entire show floor.
Bluebird is an intuitive web application that maps exhibitor performance metrics to the show's floor plan. Exhibition sales teams have typically lacked this data, despite it being central to demonstrating exhibitor ROI.
Confex's operations team will also benefit from Crowd Connected's real-time visualisations – designed for the challenge of simultaneously meeting new regulations and visitor expectations. Intuitive web-based heatmaps, charts and customisable dashboards provide event organisers with additional situational awareness. By understanding dwell times and peak flows, show capacity and throughput can be efficiently managed.
Additionally, Crowd Connected's toolset enables Confex's marketing team to personalise the event experience for attendees. Location-based messaging through the official mobile app will be used to proactively target recommendations to optimise the visitor experience and influence individual behaviour – even before visitors have arrived at the show. Because the Confex mobile app will be location aware, in-the-moment visitor feedback through timely micro-surveys will also be possible.
Duncan Custerson, International Confex Event Director said: "A successful restart for physical shows is what every event professional is desperate to see this year. As the first out of the blocks, as well as being the leading exhibition in the UK for the MICE industry, we're determined to show how it can be done.
"We're really excited to be using Crowd Connected's visitor tracking software for our much anticipated return to live – not just for our own benefit, but to demonstrate to the wider industry how technology like this can help face-to-face shows compete for exhibitor spend and visitor time."
Mark Maydon, Commercial Director for Crowd Connected, said: "We are convinced that the latest generation of digital tools, which enable physical events to gather valuable data on their customers, will be fundamental to the industry's future success.
"Data has been the lifeblood of digital businesses. In a post-pandemic world, it will be critical for face-to-face events. Visitor tracking is one significant aspect of this, and we're absolutely delighted to be working with Duncan, the whole team at Mash and their partners like Benchmark Collective."
For further information, contact:
About International Confex
International Confex is organised by Mash Media, publishers of Conference News, Exhibition News, Access All Areas, Conference and Meetings World and Exhibition World.
For 38 years, International Confex has been the leading exhibition in the UK for the events industry, , bringing together the largest gathering of event professionals in the country.
Confex is where event organisers discover suppliers, venues, and service providers to help them plan their future events as well as catch up with industry contacts.
Situated at ExCel London and taking place across two-days (22-23 June, 2021), International Confex delivers a world-class conference programme of 100+ talks which is central to the show.
About Crowd Connected
UK-based Crowd Connected provides visitor tracking technology which enables events and venues to capture, understand and influence the entire attendee experience.
Crowd Connected's cloud-based platform intelligently gathers, processes and analyses location data. From this rich stream of data, the software provides real-time intelligence, delivering effective customer insight and engagement.
Crowd Connected's technology is widely used by mass attendance events, venues and similar crowded environments around the world. Licensees include leading names in the entertainment, sports and exhibition industries.