24 Feb 2021
Conferencing in Dublin at Clayton Hotel Liffey Valley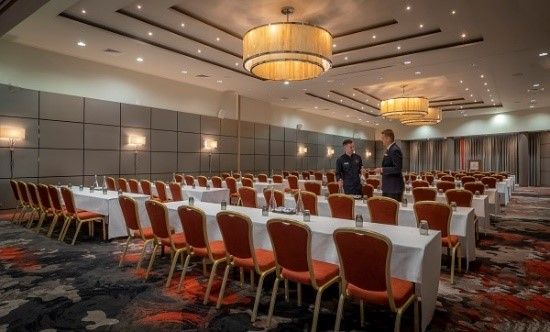 The Clayton Hotel Liffey Valley Dublin is a four-star hotel located approximately 10km from Dublin City centre and 15 minutes' drive from Dublin Airport. The Airport Hopper goes directly from Dublin Airport to Clayton Hotel Liffey Valley every 20 minutes which makes it very convenient for our international guests. We are located just off the M50 motorway the main road connecting the airport and the City Centre to our hotel. Our location makes Clayton Liffey Valley very desirable for those travelling by air, bus, train or car. We also provide secure underground parking for all our guests.
We are located beside some of the World's largest Multi-National companies such as Intel, Pfizer, Google, Amazon and Facebook.
The hotel offers 352 bedrooms which include standard, executive, suites, and serviced apartments. Our fully serviced apartments are ideal for long stay business travellers.
Some of the features of the hotel include fully equipped gym, leisure centre which has a jacuzzi, steam room and sauna that can be the perfect addition to any delegate to relax in after a long day of conferencing. We have two onsite restaurants The Globe Bar and Restaurant and The Gusto Italian Restaurant serving the finest and freshest local cuisine.
Our dedicated Meeting & Events venue in Dublin is located on the 1st floor within the hotel. We have recently completed a refurbishment of all 12 meeting rooms which can comfortably accommodate anything from 2 to 330 delegates. Our meeting rooms are adaptable in order to support different size spaces that you may need. Whether it's a one-to-one interview, small classroom style training room or large-scale event, the venue can cater for a range of occasions. All of our meeting rooms come with complimentary WIFI, natural daylight, individual air conditioning, individual lighting controls, easy to connect to A/V system with and full blackout facilities,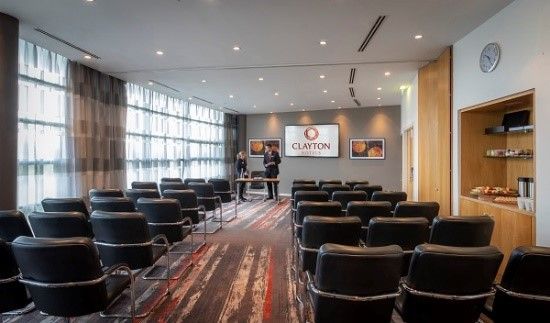 Our largest suite the Pegasus Suite has been specifically designed to offer the conference or event organiser a fully flexible meeting and dining space, as well as a separate reception area suitable for registration, refreshments and drinks receptions. Pegasus Suite can accommodate up to 330 guests in air-conditioned comfort and offers touchscreen technology throughout.
If you are hosting a single day, multi-day event or your delegates are in need an overnight stay too, the hotel has a range of conference and event packages dependent on your needs. There are a range of restaurant options whether you want refreshments, a light lunch or three course dinner for your delegates.
Offering every size space, you need – from a simple business meeting to a uniquely stylish ball or conference.
Our dedicated conference and event team are here to make your event run seamless from start to finish. Our highly experienced staff with work with you and make sure your event is a success. Our team will be on hand throughout the day to assist with anything you may require. Our operations team will meet you before your meeting begins and will be on call to assist you.
Contact name: Susan O' Keeffe
Phone Number: 016258000
Email: sokeeffe@claytonhotels.com
Website: www.claytonhotelliffeyvalley.com/contact-us/