02 Dec 2020
Clayton Hotel Charlemont; the perfect place for business and leisure in Dublin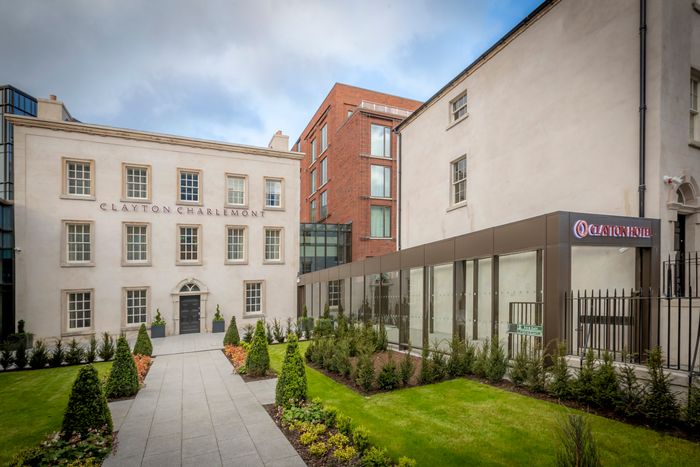 Clayton Hotel Charlemont is ideally located in the heart of Dublin 2 on the banks of the iconic Grand Canal. Opened in November 2018, the hotel has been carefully designed to marry modern architecture with its historic surrounds and has seamlessly integrated the classical features of three 18th-Century Georgian buildings, 35, 36 and 37 Charlemont Street, with a 4-storey building linked by a beautifully designed atrium. It truly is a modern hotel filled with character, history and charm.
The hotel boasts 187 luxurious, spacious, air-conditioned bedrooms as well as
a fitness suite, valet parking and six fully equipped meeting rooms. In addition, the hotel is home to Gaudens Restaurant and Lockside Bar/Social serving tantalizing plates, the finest of wines and the most delicious cocktails to guests and locals alike.
With a central location accessible from all sides of the city, Clayton Hotel Charlemont is the perfect base for hosting small meetings in Dublin City Centre offering sophisticated meeting rooms in a truly bespoke setting. This dedicated meeting venue boasts modern, state of the art facilities, outdoor space and light-infused breakout areas as well as creative dining options expertly designed and prepared by head chef Anil Roy and his culinary team.
Clayton Hotel Charlemont is located approximately 15.5KM from Dublin Airport and is linked by a number of bus routes. The hotel is also just a 3-minute walk from the LUAS (Greenline) which services St. Stephen's Green and College Green, leaving guests right in the heart of Dublin's best shopping and tourist district in less than 10 minutes.
The hotel's central location and proximity to venues such as the Aviva Stadium and the Dublin Convention Centre makes it not only a perfect place to host a meeting, but also the ideal choice for accommodation for delegates attending events in Dublin city.
In response to the challenges posed by Covid-19, the hotel as part of the wider Dalata Hotel Group has implemented the Clayton Keep Safe programme, ensuring the health and safety of guests, delegates and colleagues. The Keep Safe programme has seen the implementation of a full range of enhanced sanitisation procedures and new practices to ensure a safe and comfortable environment. These additional safety measures have been rigorously reviewed by Bureau Veritas, a trusted independent Global lead in testing, inspections and certification. Such measures include: full sanitisation programme in place for all meetings, revised room set up and room capacity to ensure 2 metre social distancing and the removal of non-essential tactile contents in meeting rooms.