12 Nov 2020
At Whittlebury We Are More Than Just A Meeting Space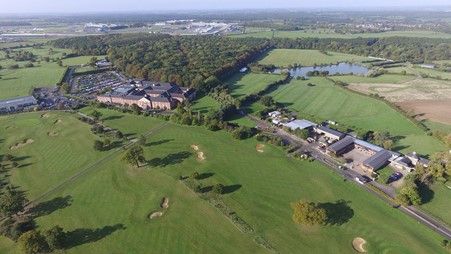 At Whittlebury we are more than just a meeting space…
Located in the heart of the UK in Northamptonshire Whittlebury really is the perfect central location for all your business needs.
Our StaySafe initiative gives reassurances to our team members, guests, and supplier partners. It incorporates the most recent guidance from the UK government and the advice and direction from our retained Environmental Health consultants.
Above all health, safety and security remain our paramount objective and we are confident that Whittlebury Park have implemented the measures needed so that we can safely open, and keep open, our doors to everyone.
We have achieved AIM Secure, the accreditation by the Meetings Industry Association, It is the UKs only national quality accreditation for venues. It features the vital infection prevention and control protocols. By achieving recognition and endorsement from the sector's leading trade association for business, meetings and events, Whittlebury Park is regarded amongst those who deliver first-class service, excellent facilities and a total commitment to upholding legal compliance and health and hygiene protocols. AIM Secure recognises Whittlebury Park's desire to demonstrate a professional approach to the meetings and events business. It highlights our dedication to offering an environment that is healthy and hygienic as well as our commitment to do the very best for both our staff, suppliers and guests.
Plus, Visit Britain's industry standard of 'Good to Go'. Providing a 'ring of confidence' for tourism as the sector works towards reopening. The 'We're Good To Go' industry standard and supporting mark means businesses across the sector can demonstrate that they are adhering to the respective government and public health guidance, have carried out a COVID-19 risk assessment and check they have the required processes in place and clearly outlines the processes and facilities that tourism businesses in England need to put in place before re-opening, so that both staff and visitors can be kept safe.
We have tailored packages to suit your requirements offering everything from your small team meeting to a national exhibition. We can supply the flexible space you need with large central spaces, break out rooms, conference areas and acres of outdoor space.
For our delegates you have the choice of being with us just for the day or staying with us over night, but either way your experience is valued and can offer you everything you need to make your meeting, conference or event run smoothly.
On arrival you will be welcomed with teas, coffee and a selection of delicious pastries and treats, your function room will be fully equipped with everything you need for a productive meeting, you have full use of our fast, free, unlimited Wi-Fi.
Our packages also include a three-course lunch, although you might want to leave room for your mid-afternoon treat of tea and freshly baked cakes.
If you are staying with us for 24 hours then you can finish your day in the leisure club as you have full use of the facilities, before enjoying a three-course evening meal with coffee in Astons and then a drink in Silverstone bar.
Everything your need for the perfect meeting or conference delivered with exceptional service in a safe and secure location.
Don't just take our word for it, hear what some of our recent attendees had to say
'All aspects of the visit were excellent. The front of house, restaurant, bar, cleaning and leisure club staff were all very friendly and helpful. This made our stay under the current and unusual circumstances a very pleasant one.
Please pass on our appreciation and I will certainly be happy to recommend Whittlebury Park to anyone considering a business function or leisure break in the future'
Machine component manufacturer
'Firstly, on behalf of the committee a massive thank you to you and all the team for everything. From the minute we arrived until we finally packed up and headed off home, every single member of the team made us feel welcome, nothing was too much trouble and most importantly , the measures you have in place made us feel safe and in good hands. A great comfort at this very difficult time we are all experiencing'
Event Manager, Clothing/Textiles Event
Why not take a look at our video showing you just how safe and secure we are
We look forward to welcoming you to Whittlebury Park
Emma Bines – Head of Event Sales
Email: emma.bines@whittlebury.com
Tel: 01327 857857