28 Jan 2021
Adapting to thrive and have a positive community impact through the pandemic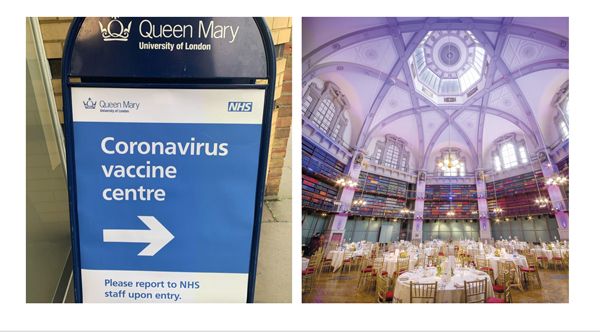 Like our entire industry, QM Venues has had a tough time through the COVID 19 pandemic, but we've remained open throughout, adapting for our customers and doing all we can to support our community. As part of one of the UK's most prestigious universities, with spaces that can truly claim to be national treasures, this has been really important for us.
It goes without saying that providing the best possible service to our clients and customers has been central to all we have done over the past year. This includes working closely with clients to find alternative dates for the 2020 and 2021 events that have to take place in person but have fallen victim to restrictions. It's also meant innovating for the future. We're adapting to the new reality by working with AV suppliers to develop 'hybrid' solutions that will allow people to enjoy the best of both in-person and online participation as Government guidelines allow.
The key for us is flexibility. Each and every event is different and the environment changes rapidly, so we have had to show adaptability and fresh thinking at every turn.
The ability to quickly adapt has also allowed us to play a part in making sure that Queen Mary University of London fulfil its responsibility to our academics, students and wider society. In the initial wave of the pandemic this meant giving our facilities over to support frontline healthcare workers. Between April and August last year we were proud to provide just over 9000 room nights to NHS staff working across four East London hospitals. As the campus sits alongside Regent's Canal we often saw NHS staff enjoying their dinner taking in the last of the evening sun, moments of calm that were no doubt a welcome relief from the stressful but essential work they were doing.
Later in the year, as campaigners like Marcus Rashford raised awareness of the cost that the pandemic was having on disadvantaged families, our QM Hospitality stepped up to offer meals to members of our local tower hamlets community during the summer and autumn schools breaks.
Most recently, our space has been able to play an essential part in the fight against the virus itself, providing venues for testing and vaccination.
Our historic Octagon is now set up as the University's main lateral flow testing centre, serving hundreds of Queen Mary staff and students. As the name suggest, the Octagon is an eight sided room, with multiple exit and entry points - ideal for the safe flow of high volumes of people wishing to access tests every day. Its three-storey high ceilings and opening windows in the dome also provide ideal levels of ventilation and airflow for further reassurance.
In addition, Queen Mary has donated the use of two spaces on our campus to act as a vaccination centre serving the people of Tower Hamlets. Working closely with the Tower Hamlets GP Care Group we have adapted space in our Arts buildings to provide the safe registration, waiting and main vaccination space. Facing directly onto the Mile End Road this provided the necessary accessibility to provide vaccines for priority patients. We are pleased that over 5000 vaccinations are projected to have been administered at Queen Mary by the end of January.
There is no doubt that it has been an incredibly difficult year, but by showing flexibility in the ways we work and the way we use our spaces QM Venues has been able to continue serving our industry while making a huge contribution to our community.
Contact Us:
020 7882 5432