19 Dec 2022
There's nothing worse than a soggy badge!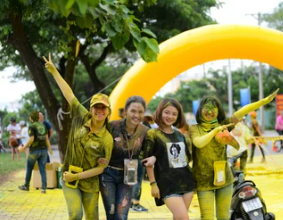 She told me that at a conference in Paris, her delegates were walking outside and it was raining. This caused the ink to run on the badges and stain the delegates clothes! I was shocked, I don't claim to know everything about organising events, but I'm sure that staining your delegates clothes wasn't on the agenda.
What's important to Event Organisors and Delegates?
This got us thinking about all the different things that are important to our customers when it comes to their badging, such as;
Robust enough to last the duration of the event.
Can be printed quickly, either pre-event or as delegates arrive.
Doesn't require stuffing into a holder or wallet.
Environmentally friendly.
Water resistant.
Can be printed on both sides.
With so many different requirements we knew that we'd have to create something different from what was already out there. The answer we came up with was our idhesive fanfold label badges. These are water and tear resistant event badges that can be printed double sided, in full colour in 5 seconds, from a dedicated label printer.
Since their creation, the idhesive fanfold label badges have been used successfully at a number of events including; the Nigerian Economic Summit and a series of Government conferences in Namibia. Admittedly none of these events were in too much danger of being spoilt by rain, however speed of printing and durability of the badges was key.
Further recognition of the success of these badges came with the award of the Innovation Solution of the Year at the Epson Colourworks Showcase in 2018.