04 Oct 2023
EXPO360's new virtual platform offers digital twin of exhibitions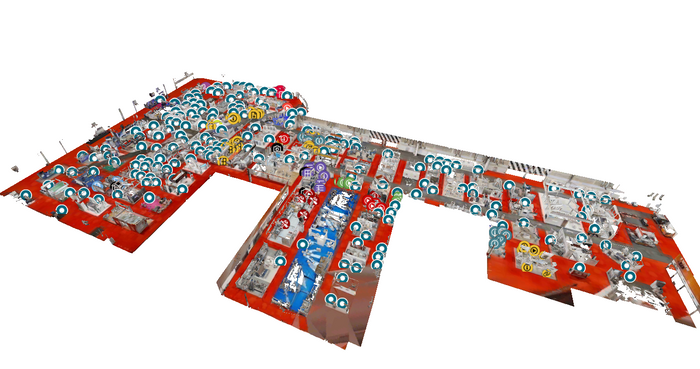 EXPO360's new virtual platform offers digital twin of exhibitions
A new platform, EXPO360, is aiming to transform the world of in-person exhibitions by offering digital twins of showfloors.
EXPO360, headed up by former BBC, SKY and ITV programme maker Alan Tisch, provides a full 360-degree capture of an exhibition, with exhibitors able to promote their stands by adding rich media, interactive "hotspots" for their products and services.
The platform is aimed to drive additional revenue streams for exhibition organisers through virtual tours. It has been launched following a pilot with Montgomery Group's fabricator and installer trade event FIT Show.
The team behind EXPO360 are now looking to onboard new customers that host exhibitions at the NEC, ExCeL and Olympia.
Tisch said, "With many clients in the fenestration industry, my first experience of large-scale exhibitions came when I attended FIT Show in 2018. I was blown away by the huge scale of the event and size of the stands, but also realised what a huge investment exhibitions are in both time and money.
"I saw an opportunity for a real-world digital twin of the event to allow people to freely walk around from any device anywhere in the world. EXPO360 has been designed to increase the shelf life of exhibitions, as well as creating an opportunity for those who missed an event to go back and explore it in the virtual world."
FIT Show event director Nickie West said, "Our exhibitors can now increase the shelf life of the show with their detailed digital recording and hot spots, whilst visitors can go back and re immerse themselves in the event. An added bonus has been being able to launch a digital twin of the show for people who couldn't make it, but want to learn more about the show, the brands and products – they can now do this from anywhere in the world."
Alan added: "We have developed a detailed feature roadmap which includes adding features such as AI to provide a truly unique experience for the exhibition owners, exhibitors and online visitors. We already have interest from overseas so we have very exciting plans ahead for collaboration and expansion."