01 Dec 2022
Conference makes Sheffield the child's knee capital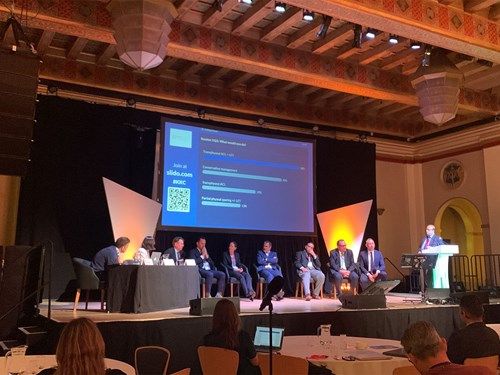 National and international experts in the field of child and adolescent orthopaedics gathered in Sheffield recently for the second International Kids Knee Conference.
Over two days some of the world's most experienced surgeons came together at Sheffield City Hall to discuss and debate the treatment of paediatric and adolescent soft tissue knee injuries and disorders with around 200 attendees from around the globe.
Originally called the International Child and Adolescent Knee Congress when it was first held in the city in 2019, the event was organised by three consultant orthopaedic surgeons – Nicolas Nicolaou from Sheffield Children's, Fazal Ali of Chesterfield Royal and Sheffield Children's and Adil Ajuied of Guy's and St Thomas in London. COVID-19 meant the next conference, planned for 2021, was deferred to this summer.
Mr Nicolaou said: "It was great to be back and to have the opportunity to once again host this conference in Sheffield that focuses on the child's knee.
"Sheffield is a centre that has worked hard in recent years improve the provision of care for children's knee issues, for patients from Sheffield and around the country. We've been involved with the production of national guidelines and have recently appointed to the first specific Child and Adolescent Knee Fellowship in the UK.
"This is the only conference in the world dealing specifically with the paediatric knee and was set up by specifically to address a gap in knowledge. Most medical conferences are in our larger cities so hosting this one in Sheffield raises the profile of the city and it's good for Sheffield Children's reputation in terms of attracting talent too.
"We're already planning for, and looking forward to, our next conference in 2024."
Children are taking part in more sport, starting younger and growing heavier which has resulted in more kids' knee injuries. Complications and re-injury rates are higher than in adults and there is also a risk of causing growth disturbance and deformity in growing bodies.
Topics for discussion over the two-day conference included osteochondral pathology, cartilage loss, ACL (anterior cruciate ligament) reconstruction, meniscal tears, and patellofemoral instability.
Sheffield firm Event Management Direct, a medical conferences specialist, helped put on the event with support from Marketing Sheffield.
Find out more about the conference at https://www.kidsknee.com/